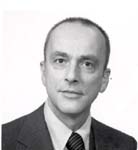 A native of Staten Island , New York, Pete Thompson graduated from Taft School in Watertown, CT, and from Lehigh in 1950, with a BS in Business Administration.
He joined Campbell Soup Company in 1950 and was employed by them for 42 years.  His career was interrupted from 1950 to 1952 by military service in the U.S. Army with stints in both Japan and Korea.
Most of Pete's career was spent in International Sales and Marketing.  He retired in 1992 as Director of Worldwide Exports.
Pete is most active in the community.  He has served Lehigh in fund raising and working for the Philadelphia Club.  He is the Senior Warden of his church and has been involved in numerous other civic activities.  An organizer and leader of the many children's sports, he is still active officiating high school softball, and high school and college swimming and diving.
He lives in Malvern, Pennsylvania with Suzanne, his wife of 41 years.  They have two adult children, Peter Jr. a graduate of University of Richmond, with a Masters from Villanova University, and Jane, a Lehigh graduate with a Masters from Columbia University.